How to resolve issues at exhibitions and events
Exhibiting at a show takes a lot of planning, organisation and time. But even the best-laid plans can go wrong.
Imagine the scene
You've spent months developing and designing the perfect exhibition stand so it's ready for the exhibition season. Everything has been delivered and now all you need to do is set up the stand and start selling! But, upon installation, you discover a horrible unsightly gap between the stand flooring and the carpet tiles. Oh no!  You booked a 6m x 6m space and were careful to ensure your flooring is exactly 6m x 6m too, but it still doesn't fit!
At this point you don't really care who's in the wrong, you just need it fixed.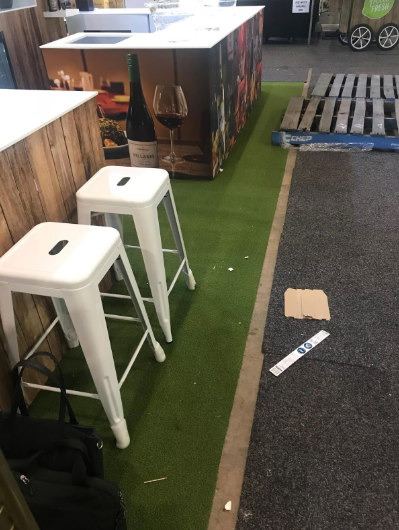 Who do you call and what can you do??
As we all know, setting up a stand is time critical – you need to be ready when the first consumers walk through the door. This is where it pays to be connected to people in the know, people who can react and get the problem fixed pronto. Luckily if you purchased your stand from a reputable company, and have built a rapport with them throughout the build, then you can simply put in a call and get the situation fixed. However, if you bought all of your display gear online, it can be very difficult to know who to call and how to get it fixed before the doors open on show day.
At Displays 2 Go we pride ourselves on always being available to our clients, both prior to show day and beyond. We understand that things can go wrong and we encourage our clients to involve us in the process from start to finish – this means from initial concepts to final installation. That way we can be on-site should anything not go to plan. Although we always test each product before it leaves the factory, we do understand that some things don't always work as originally designed and small amends may be necessary.
So next time you are planning an exhibition stand, or are looking for some help, give us a call we would love to help!