How to supply the right logo file for printing?
Not all logo files are created equal!
Different logo files are created for different purposes. A logo file that has been created for a website is typically of low resolution because it only needs to be large enough to present on a screen.
What type of file do I supply?
Your logo file must be high resolution. High-resolution files can be in a variety of formats, including Adobe Illustrator (identifiable with the file name extension '.ai') or '.eps' format. If you don't have design software on your computer, you will not be able to open or view these files, but a professional printing company can.
If you're providing 'picture' files like a TIF, JPG or PNG, it is critical that these files be high resolution. The easiest way to tell is by looking at the file size. For example, if you have a logo file in '.jpg' format, it should be at least 1 Mb in size in order to print well on a large display.
If you do not have a high-resolution logo file, it is likely you will need to have the logo rebuilt by a designer before it can be printed.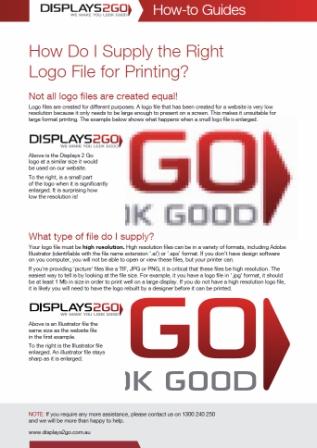 We're here for you
Need some help?
If you're needing some advice or just a helping hand, please get in touch with our team, by clicking this button. Complete the enquiry form and one of our specialists will call you back as soon as we can.