Your complete guide to Spin to Win Prize Wheels
Whether you are looking for a Spin to Win prize wheel, a free-standing chocolate wheel or a tabletop promotional wheel, you'll find all these promo wheels right here at Displays 2 Go, and although it feels like they've been around forever, they're still very popular and a big hit with customers. 
Sometimes, it's the simple activations and promotions that win hearts and minds.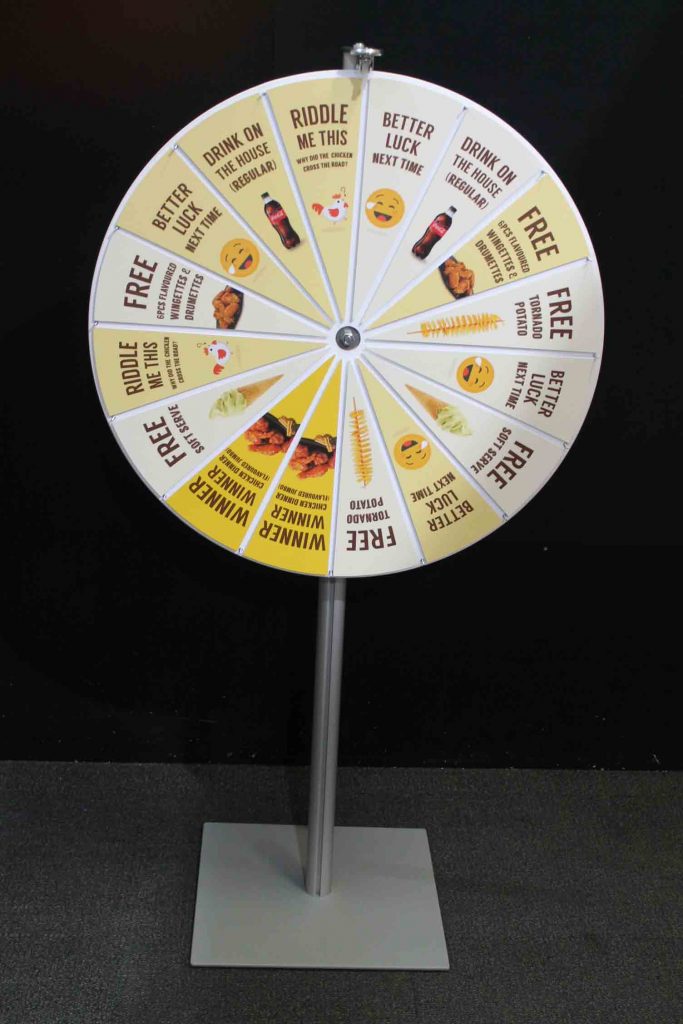 Why are prize wheels so popular?
There is something undeniably enjoyable about spinning a prize wheel, hearing the clicker go round and the anticipation of where the wheel will stop. It's a similar buzz to that found at the roulette table.
This is one of the reasons prize wheels are still so popular. They provide a focal point and make the drawing process an "event". This is why a prize wheel and a sense of theatre go hand-in-hand, whether it's a real-life floor standing Spin to Win wheel or something smaller, people still love the excitement and anticipation.
Are competition wheels still effective?
The simple answer to this question is YES. Spin to Win competition wheels are still very effective because being part of a game is a simple and effective way to engage with your audience. The audience wants to be part of it and because it's a game where you wait and see what you might win, it triggers emotions and therefore increases excitement and anticipation – not just for the participant but for those watching too – it's a shared experience.
It's this engagement that enables customers to respond positively, and in turn can lead to a stronger brand relationship and increased loyalty, as opposed to just simply creating an awareness campaign.
Physical or Digital
Competition wheels can be physical or digital and used for any type of promotion. 
A digital wheel is often used to capture customers' data or used as gamification for online purchases. A good example would be to receive a 10% or 20% coupon code off their online shop or to win a flight online. You've probably seen this promotion online when you have been shopping yourself, a simple way to get your email address in return for a spin of the wheel – it's hard to resist, isn't it?
A  physical version is much more about creating a sense of theatre and drawing in the crowds. For instance, if you were wanting to draw people onto your exhibition stand or you were launching a new product in a shopping mall then a large free-standing prize wheel with bright graphics would be the perfect option. If you were needing a more portable solution then a tabletop spin to win wheel might be a better choice. 
This is why we make our wheels with a nice, loud clicking function – prize wheels are synonymous with ACTION!
With a physical wheel, you are also able to operate an instant win where the winner takes away the prize, there and then. This not only creates additional noise and impact around your promotion but can also be seen by passers-by, once again creating interest and engagement.
Production Considerations
There is nothing that ruins a show or spectacle more than when things go wrong. A stuck wheel is no joke. Similarly, your Spin Wheel needs to be well balanced, as an audience never wants to think the competition is fixed. From a production perspective, these elements are actually quite complex. It's certainly not a case of nailing a circle to a post and hoping for the best! 
Design and Build
If you are interested in having a prize wheel designed for your next promotion then get in touch as we design and build the prize wheels in our workshop and can come up with a solution just for YOU. We have developed many prize wheels for clients and brands throughout Australia, so we understand the requirements, know the watch-outs and have the skills to ensure your promotion goes without a hitch.
For more information head over to our website https://www.displays2go.com.au/prize-wheels