Here's why immersive experiences are the future of branded experiences and brand events
Once upon a time, brand experience meant little more than handing out some branded lollies, using models dressed up in branded tees, or talking to customers about the brand by telling a quick story.
However, with increasingly demanding consumers in an increasingly crowded marketplace, that's simply not enough anymore. Consumers are demanding more from their favourite brands – they're happy to let brands into their lives but want to be rewarded with unique and special experiences.
With technology helping brands take their consumers on a more interactive and engaging journey, the marketing process has ramped up a notch. And, as the global augmented reality market is expected to grow to a whopping US$117.40 billion by 2022, as per estimates released by MarketResearch.com, immersive experiences are expected to become increasingly powerful.
So we have what marketers and experiential agencies are calling 'the immersive experience'. It's next-level experiential and greys the lines between reality and fantasy. For years, marketers have been delivering compelling customer experiences, but now they add technology and the internet to deliver Virtual Reality and Augmented Reality experiences where the brand takes over the entire customer environment. Print media, television and the internet provide a two-dimensional experience. An immersive experience gives the audience a sense of actual presence, which completely transforms the experience. Consumers become a part of the environment with the ability to react to events they encounter.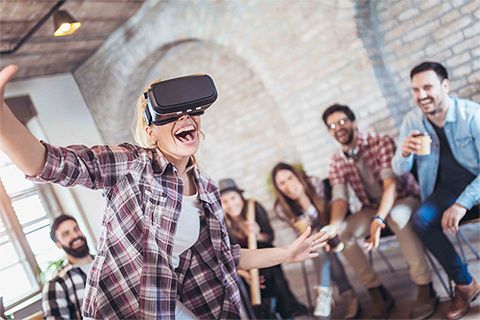 Much of this new focus is fueled by Millennials, who give preference to experiences over products, according to an article in Business.com. They spend money on experience-related purchases. This has driven the experience economy, and brands are increasingly focused on turning ordinary products into experiences so they remain interesting and relevant to a new set of consumers.
Being bombarded with advertisements used to be a way to cut through but people have learned the art of avoiding them. We seem to have developed a 'built-in Adblock', says an article by ScribbleLive. Immersive storytelling offers something novel and lets one develop unique stories and environments to attract and engage prospective customers.
Let's take a look at some recent examples to demonstrate how an immersive experience can be different. 
Mamma Mia! The Party
The world of Mamma Mia! delighted yet another set of viewers over the summer with the release of Here We Go Again. Now, that world has been recreated in none other than London's vast O2 arena. Adapted by Sandy Toksvig, Mamma Mia! The Party invites participants to step into an island paradise, eat top-notch Mediterranean food and listen to live performances of all the best ABBA numbers. It brings the films to life and allows people to actually spend an evening within the movie itself, almost.
Refinery29: 29Rooms
For about three years now, lifestyle brand Refinery29 has hosted the 29Rooms event: what it calls 'an interactive funhouse of style, culture, & technology'. As the name suggests, it consists of 29 individually branded and curated rooms – and attendees can experience something different in each one. The rooms are designed and created with brand partners, who range from personalities like artists and musicians to consumer-facing companies like Dunkin' Donuts, Dyson, and Cadillac.
Each year, 29Rooms has a different theme, with this year's being Turn It Into Art. Attendees, it seems, are encouraged to enter each room and use the surroundings to create something – one room, for instance, invites participants to put on punching gloves and hit punching bags that each produce a different sound when contacted to create a symphony of sorts. Take a look at the video HERE
Converse One Star Hotel
The Converse 'One Star Hotel', executed with high production value, saw Converse create a two day pop up in Shoreditch, London. The hotel focused on presenting an engaging line up of fashion, music, sneaker and skate experiences for Converse's audience and influencers. The activation was an 'Instagram playground' and brought the Converse story alive for the highly engaged Gen Z target audience, increasing the brand's overall reach and effectiveness through UGC (user-generated content).
Every touchpoint of the experience was highly considered and played up to their rebellious personality. But importantly, their products sat at the heart of the activation, with sneakers influencing rooms with their style, usage and colour.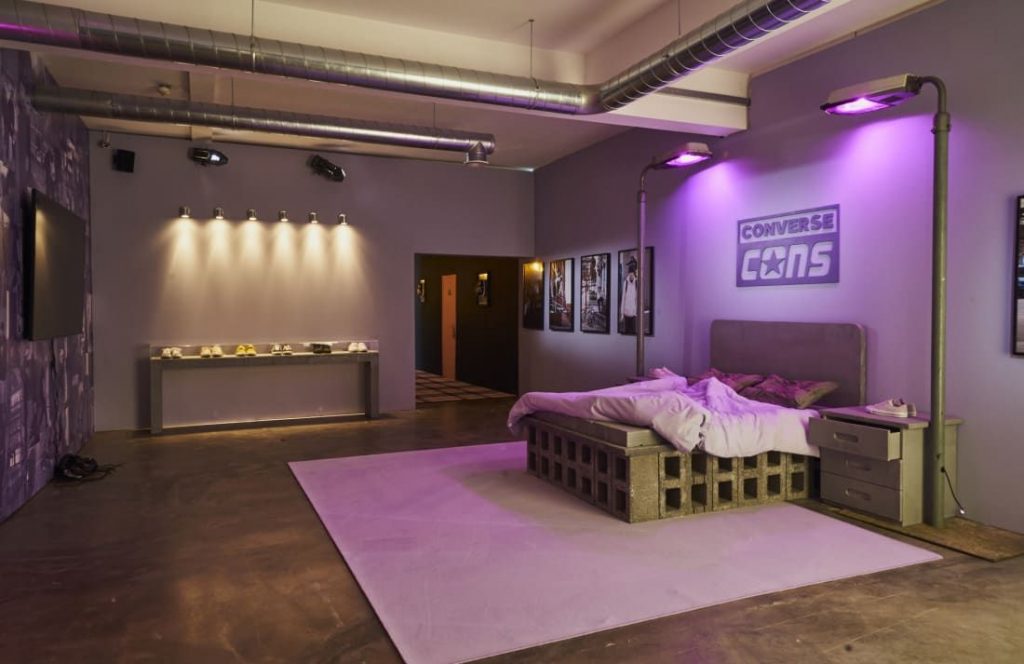 Source: Pinterest – Converse One Star Hotel
If you are looking to create a consumer experience and need some help with display and event production, we would love to hear from you. Please give us a call on 1300 240 250 or contact us HERE.