Using Demo Tables more effectively to showcase your product or brand
Demonstration tables, portable counters, promotion stands; they all refer to the same product. Whatever terminology you use, Displays 2 Go will certainly have one that's right for your next activation. We have the widest ranges of demo tables in Australia, and our staff can guide you through the jargon to deliver you the perfect solution.
Fact 1
Our extensive range comprises 12 different types of demonstration tables, varying in size and style to fit the smallest of spaces or to stand out in the busiest of malls. We also design and make custom-built stands!
Fact 2
The most popular table we sell is the Retail Demonstrator. This table is used extensively across Australia as it is pre-approved for use within Woolworths, and is Coles' go-to demo table across their stores.  If you spend any time in a supermarket, chances are you have seen a Retail Demonstrator in use.
Fact 3
The Superlight 800 sales table weighs in at only 5kg – that's only twice as heavy as the average woman's handbag – making it very portable and easy to carry from car to venue.
Fact 4
The average time to assemble a Displays 2 Go Demonstration Table is less than 3 minutes, with no tools required.
Fact 5
The tables and countertops can be custom designed to suit your needs – whether you need a food-grade melamine top or a top with a formed lip to stop any spills, we can advise you on the best option.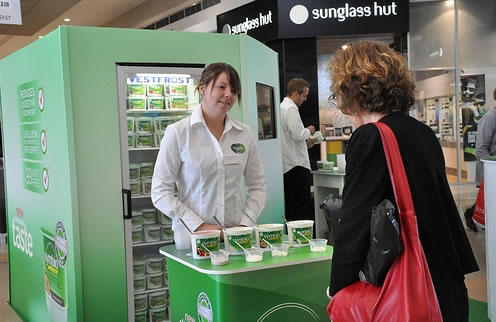 Fact 6
The Presenter series tables are all designed to fold flat, making them easy to carry and to store!
Fact 7
The graphics on the tables are vibrant and bright, showcasing your brand and attracting customers to your stand. Using a branded header above your table is more likely to attract attention than one without.

Fact 8
A curved presenter table adds the 'welcome factor' to the sales environment. Clients feel more comfortable approaching a curved surface, and feel more comfortable standing next to each other as well, so the curved top is ideal for crowded environments.
Fact 9
If you need a larger display or work area you can always join our tables together, giving you a very economical and impactful counter space.
Fact 10
The flexibility inherent in our tables makes them suitable for use in a wide variety of applications, including product sampling, product display or as information and sales counters at exhibitions and trade shows.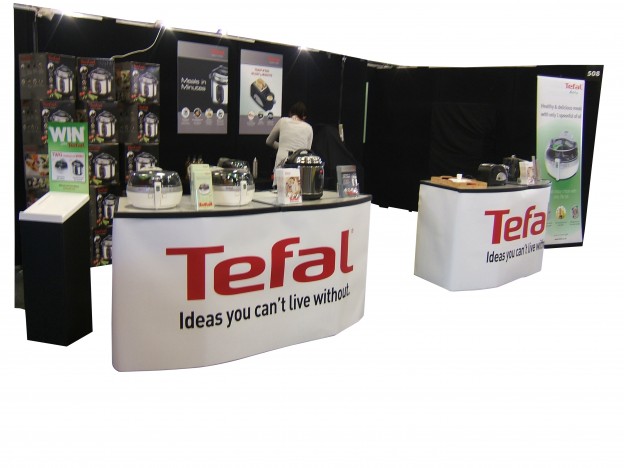 If you would like to see one of these stands or want to know more, please give us a call on 1300 240 250 and our friendly sales team will be able to assist.