Outdoor Sampling Trolleys
Take your product to the people!
For outdoor product sampling wherever you may need it; this outdoor trolley cart features two gel-filled and puncture-proof rubber tyres to allow you to negotiate all sorts of terrain, including grass, beach sand, kerbs and pedestrian malls.
The trolley incorporates a 425mm diameter, 70 litre bin made from a super tough food grade polyethylene resin plastic, with optional lid. This trolley can handle a wide variety of products, from ice and cans through to lightweight sachets.
Graphics are easy to change as required.
Need help to decide what's right for you?  Let us know what you need your trolley to do and we'll help you with a solution that suits your requirements.
(Price includes: outdoor trolley frame with 2 x all-terrain tyres, food-grade internal polyethylene bin, and custom printed interchangeable graphic)
Add a clear polycarbonate round lid with handle to keep cold items colder for longer, or as a safety cover in crowded locations.
If a full-size bin is too deep for your requirements, an internal shelf can be added so the contents of the bin are closer to the top so can be accessed without reaching into the bin too far. 
The last thing any user wants when using the trolleys is a flat tyre, so the outdoor trolleys come with tyres filled with gel, not air.  This saves field staff from losing valuable down-time when they can least afford it.
Size 425mm diameter x 900mm high. 
If optional top is added the handle will add 100mm, therefore total height including handle is 1000mm.
The Outdoor Trolleys are manufactured from a welded steel frame and include 2 x gel-filled tyres and an interchangeable 'wrap' which is mounted to a curved 5mm backing and attaches to the frame.
Clear round lid with handle, manufactured from 10mm polycarbonate
Extra or replacement graphic 'wraps'
Drainage tap for bin, allowing for liquid to be removed without needing to tip the bin over
Internal shelf on cross supports
With robust materials and construction, this durable design is suitable for multiple use over a long period and carries a 5 year warranty!
The warranty applies to non-graphic components and is available to the original owner of the unit. The warranty does not cover mistreatment or normal wear and tear.
Artwork can be supplied directly by you or your graphic designer, or if you prefer we have an in-house graphic design department to prepare your print-ready artwork.
If you'd like pricing for graphic design simply send us a brief of requirements and we'll be happy to estimate for you.
For general instructions regarding file formats, artwork set-up, bleeds, and options for sending us artwork please be sure to review our artwork file specifications before preparing your print files. 
$874.00 ex-GST
Prices do not include GST and freight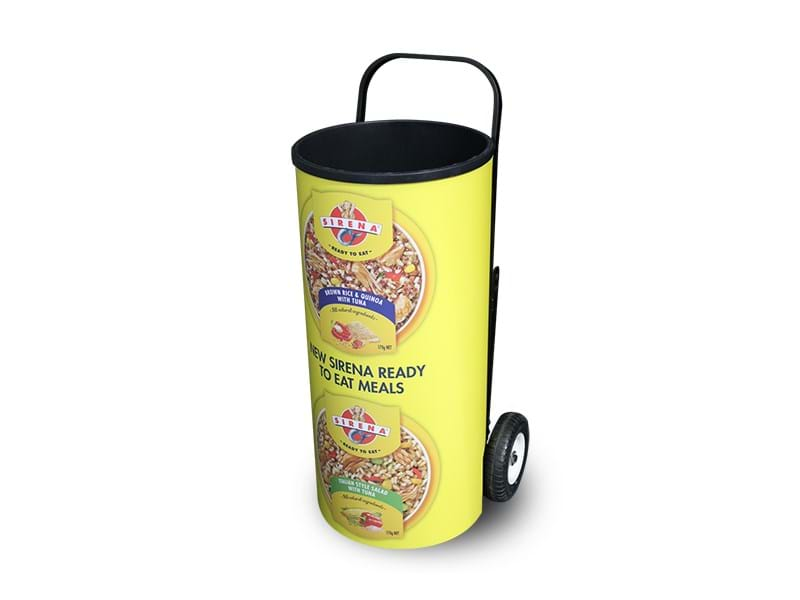 To add custom features or for help with your requirements, click the 'Enquire Now' button or call 1300 240 250.

Enquire about the Outdoor Sampling Trolleys
If you have some custom requirements or would like a quote or specific information, complete this form and we will contact you.