An Introduction to Branded Flooring Solutions
Whether you are planning a stand for an exhibition, a retail pop-up space or an experiential marketing campaign, it's imperative you consider all aspects of the build. People tend to focus on the stand itself, which is understandable, but the flooring is often something that gets overlooked by inexperienced operators.

5 Reasons why stand
 

flooring

 

is so important?
It completes the picture. If flooring is part of your stand design it can be branded in your colours with key marketing messages or logos included. This can deliver a massive boost of visual "punch" to your exhibition space and increase visitor engagement.

It gives your stand a defined sense of scale, making it stand out from the rest.

It enables you to conceal electrical and data cables, making it look professional and slick.

It enables you to finish off your stand by putting a stylish ramp edge around your display area.

It can be used to effectively guide people around your stand, providing pathways and signage prompts.
Types of flooring to choose from
As you can imagine, there are many different options to choose from. It just depends on your requirements.
Raised Exhibition Flooring
The most popular flooring we produce is raised exhibition flooring. This can be timber or printed and is typically coated with a hard-wearing white melamine finish, which keeps it looking great and provides a safe, waterproof surface.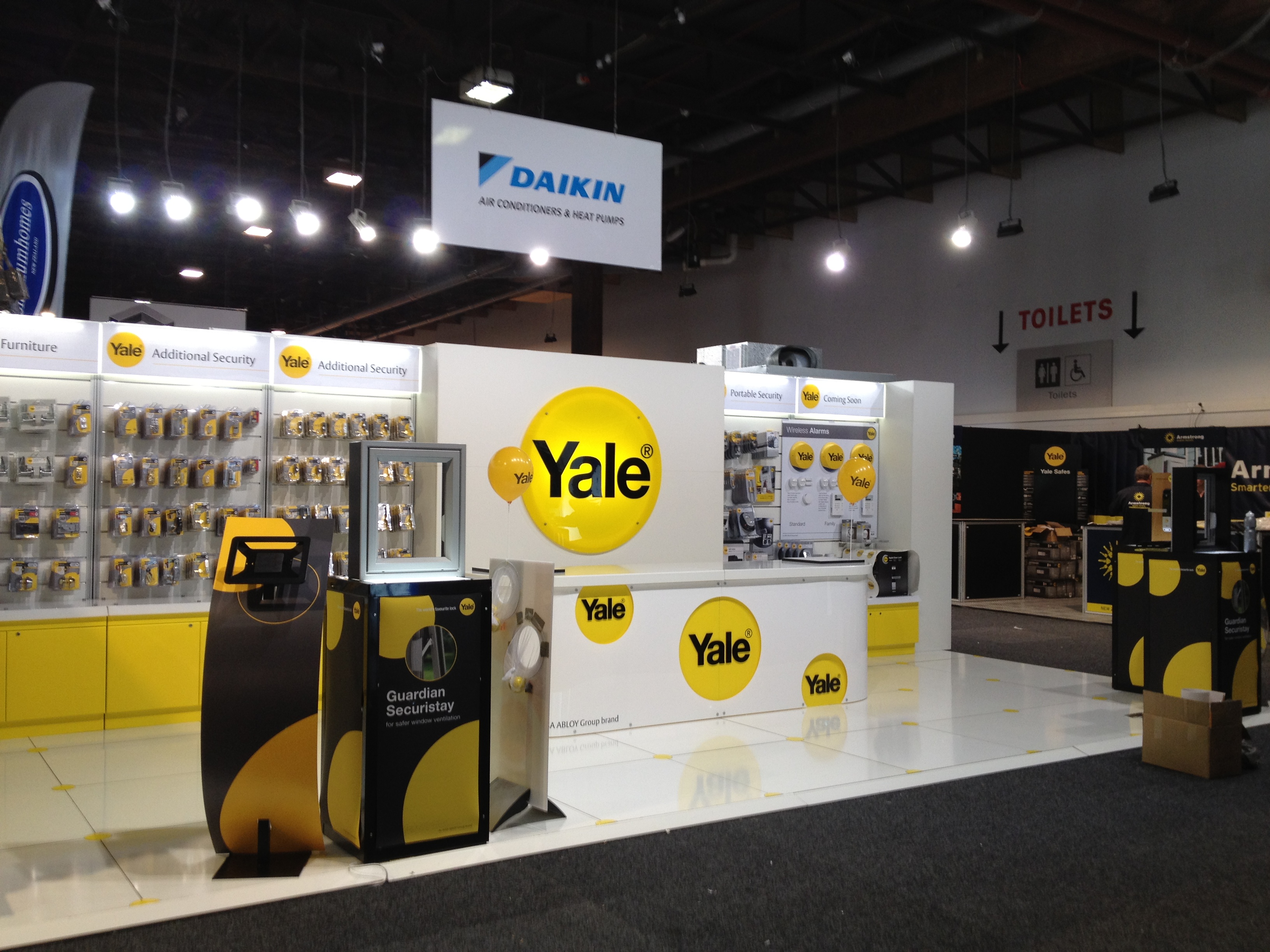 Printed Carpet & Vinyl Flooring
The other types available are printed carpet flooring and printed floor vinyl. Both are highly effective, but each is appropriate for different scenarios.  Let's take carpet for instance – no longer do you have a limited choice; today you get to design your own carpet and get a roll printed! A perfect solution to create a luxurious, welcoming feel under-foot, and great for exhibition stands, office lounges or waiting areas. Vinyl on the other hand is mainly used in sporting areas, shopping malls, showrooms and supermarkets. Floor vinyl is generally used for shorter-term promotions to get people's attention, or as sponsorship at a sporting venue.
Printed Carpet Tiles
Possibly the most versatile solution is printed carpet tiles. These tiles can make the difference between an average looking space and one of the most talked about spaces in the exhibition! The tiles give you the opportunity to create a unique, portable flooring solution that can be positioned together to create one large image. These tiles can be used time and time again at different venues and for a variety of uses.
How easy is it to install?
It does depend on what option you decided to go with, but generally branded flooring is easy to install and highly portable. It is also modular, so you can start small and then add more pieces to it if required.
If you are looking for a solution that ticks all the boxes then come and talk to us at Displays 2 Go and we can walk you through all your options and provide you with a portable stand that will stand the test of time. Call us on 1300 240 250 or email us at sales@displays2go.com.au