Two Million Free Samples Given Away
Sampling is still a massive component in the marketing mix, and there is often no better way to get a new product to market than by giving away samples. But how do you get noticed? How do you make some noise in an already crowded marketplace?
Well if you're Coke, you create a multi-faceted, technology led campaign. It all begins with a clever slogan – say YES to the taste you love – and then completes by asking customers to do just that in order to get a sample.
It uses technology in an engaging way to get product into hands and then uses social media to amplify the effect. It was a far-reaching, bold campaign that delivered a high volume of samples in a short time period. The costs would have been eye-watering but Coke is up against it and needs to win over a new audience.
It's an interesting campaign for a brand that has been losing the love over the past few years. Is it a mistake to take out so much of the human element? Will the use of technology bring Coke to a new younger market? Only time will tell.
The Coca Cola No Sugar campaign was launched last month on the streets of Sydney. The campaign gave away over two million free samples by bus, panel and person!
Street Sampling
The first samples were delivered by a cool coke-branded truck travelling around Parramatta. This truck interacted with customers through social media, in particular Facebook Live, to give away the free samples.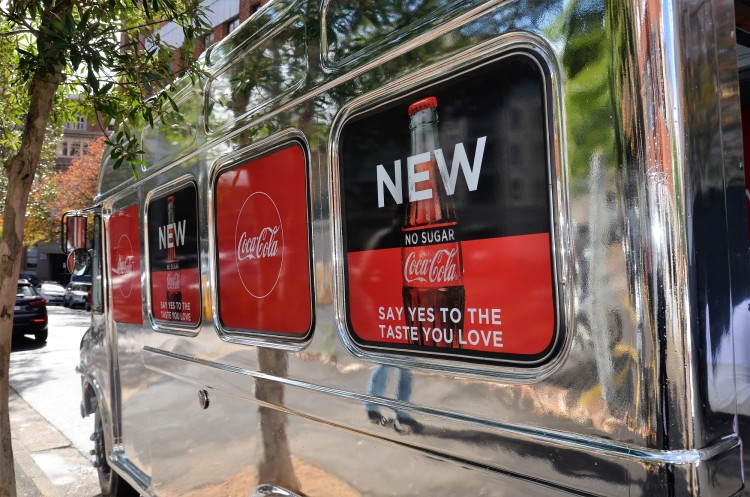 Digital Billboard/Kiosk Sampling
Coke also introduced an outdoor sampling campaign giving away free products on Pitt Street – however there were no brand ambassadors in sight. The back lit interactive advertising panel was voice activated and encouraged consumers to become engaged with the brand by saying 'YES'. To redeem a free sample consumers had to verbally say YES to the panel. Once they had done this, a sample was automatically vended directly from the refrigerated panel. In our opinion, simple and effective in delivering high sample volumes, but not much of a conversation piece.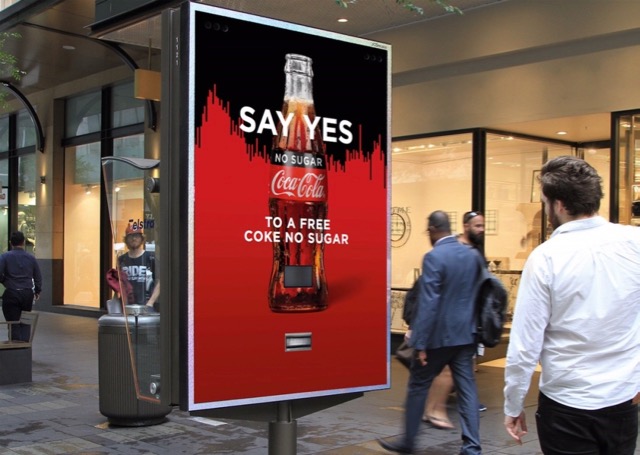 ATL Tech Led Campaign
Understanding multi-screen viewing habits, the campaign went on to deliver additional trials, using the Shazam App to deliver product vouchers. The television advertisement prompts viewers to use the Shazam music app to download a free Coke No Sugar voucher.
Event Sampling
Coke went on to use major sporting events and ski resorts to get their product to the masses, providing multiple opportunities for consumers to interact with No Sugar Coke across a number of touch-points.
All of this in the space of a month has definitely got the product 'out there', and it will be interesting to see if more companies start using this combination of technology and in-person sampling when launching a new campaign.
We are not convinced by what we've seen so far. There was nothing new, amazing or very theatrical in this campaign – just a show of dollars. For us the biggest talking point is just how many samples Coke gave away in a short time period. But after one taste, will trialists come back for more?