Fabric Display and Exhibition Solutions offer the most flexible options for portability and impact
It's true to say that Australia is definitely not at the forefront of exhibition displays when we look at the rest of the world. But as long as we recognise this, we can certainly use it to our advantage. At Displays 2 Go we are constantly looking overseas for inspiration and the latest in product development.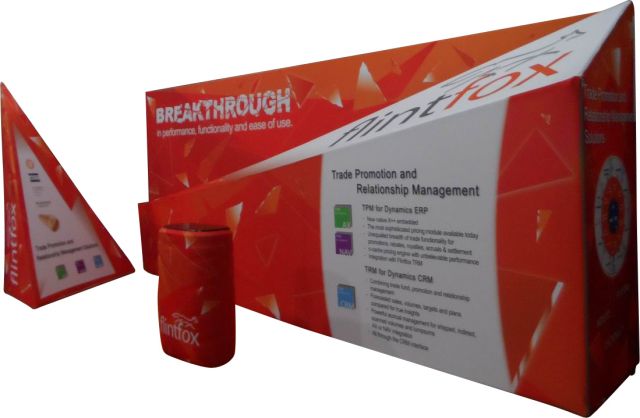 Over the past few years the major changes to the display world have been via the use of FABRIC and DIGITAL displays. We all know that fabric has been around for a long time. You may have used it in previous displays, but fabric today has never been so impactful. Gone are the days when we were only able to print on the surface of the fabric; now the graphics sit within the very fibres of the fabric themselves, and this is where you get the WOW FACTOR.
Why use fabric?
Colour – The graphic textiles we use deliver a non-glare, true colour representation for your brand, image or message. What you see is what you get, in perfect colour. We choose the perfect fabric combinations that best fit the hardware they're being used for.
Zero Curl – The fabrics we use don't curl or lose their stretch, so they're perfect for display walls, pull up banners and plinths.
Zero Fade – The fabrics we use are engineered to work perfectly with the latest dye sublimation print processes, ensuring not only incredible colour to begin with but also colour-fastness over time. The fabric can be washed many times and the colours won't fade because the inks are embedded within the fabric.
Eco Friendly – The dye sublimation print process has a significantly lower environmental impact over other print methods,  with lower VOCs, a lower energy heat process, and reduced ink & water use. We use recycled polyester as the base material in most of our displays, knitted in different ways to suit its usage.
What products are there?
Our Lycra skins are designed to slide over our range of plinths, pedestals, portable tables and towers, giving our clients the flexibility to change the graphics on-site and in seconds! Lycra is not only stretchy and very hard-wearing, but it's very easy to use and gives an exceptional finished appearance.  It's so good that you probably would not be able to tell the difference between traditionally printed displays and a Lycra display.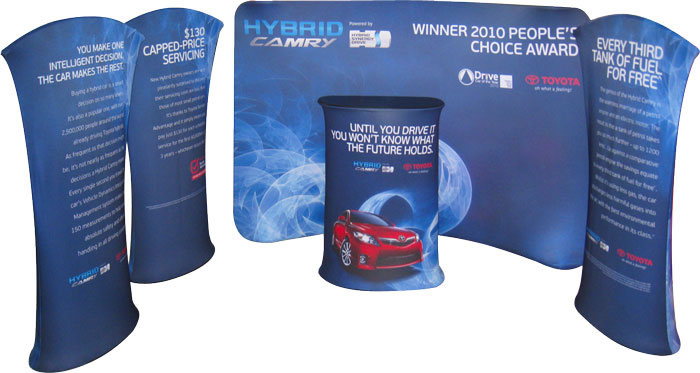 Fabric SuperWalls have come along way over the past few years; the basic SuperWall is still a great seller but we have recently introduced some new products that really create an impact. The new SuperWalls still have all the qualities as before; lightweight, portable, seamless, minimal light reflection, but they now come with some fabulous new designs.
The SuperWall Star and SuperWall Edge both feature more than one wall. For example, the Star incorporates a large, curved wall at the rear with a star-shape burst at the front. The combination of walls makes a real impact and the fabric graphics just seem to pop out at you.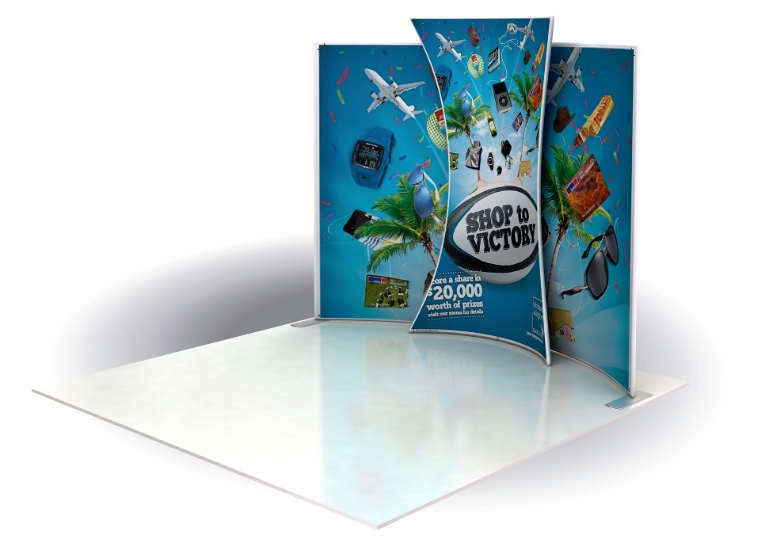 The SuperWall Edge consists of three modules, with the two side modules built at asymmetrical angles. The use of different modules give you the ability to have 3 different fabric skins which in turn could mean 3 different messages.  BONUS!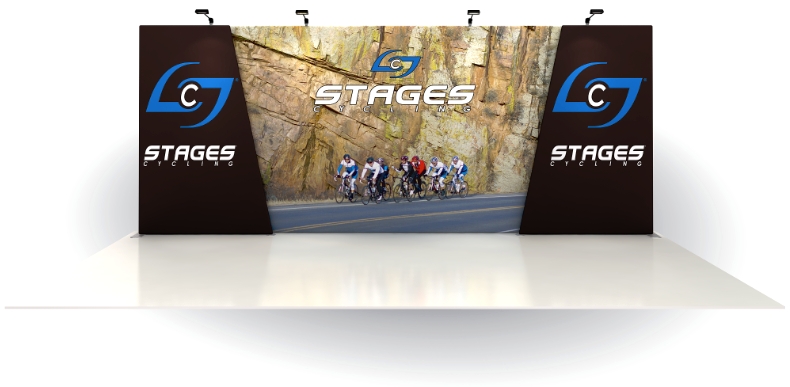 So, if you are looking for new display products or just need a new skin for an existing wall or plinth then give us a call. Or stop by and see for yourself how good these displays really are.