Foot Traffic Kit - For Hire
Designed for an open-plan style mall space sized at 3x3 metres or 3x4 metres, where you are expecting vistors to regularly come and go. This kit creates an open and inviting space to maximise visitor numbers.
Consisting of two side modules with shelving, linked by a horizontal pair of overhead beams, your logo or messaging will take pride-of-place above the stand.
It is intentionally free of sit-down furniture as the booth is designed for visitors to stand.
The over-height sections are designed to be slim and therefore be acceptable to shopping centres, but be sure to confirm this with them beforehand.
(Price includes: hire for up to 5 days of 3m x 3m raised flooring in white with ramp edge to all sides, counter with custom graphics, side modules with shelves to one side, double-sided graphics to side walls, and double-sided graphics to overhead sign)
Size: 3 metres x 4 metres
Height of highest overhead bar: 2500mm
Size of overhead sign: 1200mm wide x 600mm high
Size of side walls: 1000mm wide x 2200mm high
Dimensions of sales counter: 1000mm wide x 400mm front-to-back x 1000mm high
Artwork can be supplied directly by you or your graphic designer, or if you prefer we have an in-house graphic design department to prepare your print-ready artwork.
If you'd like pricing for graphic design simply send us a brief of requirements and we'll be happy to estimate for you. When you're at the checkout page simply advise us which option you prefer.  
For general instructions regarding file formats, artwork set-up, bleeds, and options for sending us artwork please be sure to review our artwork file specifications before preparing your print files. 
$9,820.00 ex-GST
Prices do not include GST and freight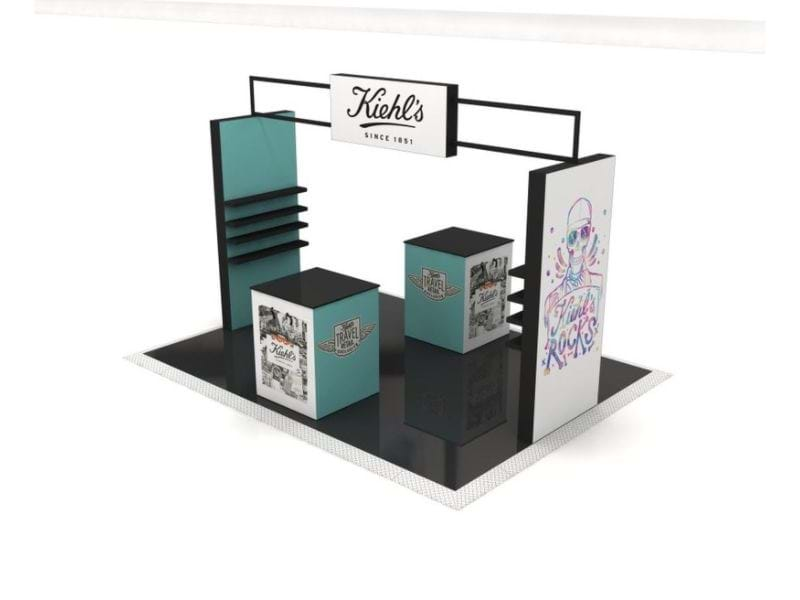 Shopping Centre Foot Traffic Kit (hire kit)
To add custom features or for help with your requirements, click the 'Enquire Now' button or call 1300 240 250.

Enquire about the Foot Traffic Kit - For Hire
If you have some custom requirements or would like a quote or specific information, complete this form and we will contact you.