Backpack Flags
This walking banner backpack flag is a compact and easy-to-use solution designed to give you branding on the go!
One backpack can hold various styles of flags which are all lightweight and easy to assemble.
Because the flag is attached to the user it allows your promotions staff to roam in a crowd, selecting your perfect target audience for your specific promotional campaign.
The flag stands high above heads, providing brand presence and impact. Perfect for crowded areas such as train stations, sports stadiums and crowded beaches.  The hands-free design gives staff the ability to hand out products or pamphlets, or take down details on a tablet
Switching to different flags is simple, and backpack harnesses are padded for user comfort.
(Pricing includes: full colour double-sided flag, fibreglass flag pole, and black backpack)
Indoor & Outdoor - Anywhere, Anytime!
Constructed with strong, flexible and light-weight carbon fibre poles and with a variety of stabilising bases the same Teardrop Flag can be displayed across several various indoor and outdoor applications and will last you for years.
For ease of storage and transportation they are supplied in a zip-up carry bag with individual compartments for the hardware and flag itself. Without the base an individual flag in a carry bag weighs no more than 3kgs.
By just joining the 2 or 3 individual carbon fibre poles together and then sliding the webbing (pocket) of the flag over them these Teardrop-2-Go Flags can be assembled in seconds by anyone.  
BrandStand's State of the Art dye-sublimation printing technology make these full colour, high quality flags the ultimate outdoor signage solution. With the BrandStand Dye Sublimation inks & fabrics, the colour literally penetrates the fabric's fibres to create a permanent & vibrant, colour fast image.
Both SINGLE SIDED (with 95% show-through of the reverse image) & DOUBLE SIDED (where a positive image can be viewed on both sides) are available.
Dye-Sublimated Fabric prints can be used both indoors and outdoors.
With 3 height options (2.2, 3.3 & a huge 4.6mtrs) there is a size to meet your onsite message delivery requirements.
Artwork can be supplied directly by you or your graphic designer, or if you prefer we have an in-house graphic design department to prepare your print-ready artwork.
If you'd like pricing for graphic design simply send us a brief of requirements and we'll be happy to estimate for you. When you're at the checkout page simply advise us which option you prefer.  
A range of artwork templates is listed below for your convenience, or contact us for the template to suit your chosen product(s).
We take pride in having one of the quickest turn arounds in the display and exhibition industry. Miracles are our specialty, so if you need something sooner than the timeframes below just ask!
These are our standard lead times (not rush lead times) for manufacturing:
Literature and poster displays, stocked acrylic plinths, turntables, stocked entry boxes, raffle barrels: 1 – 2 working days
Banner stands, display panels, room dividers: one week
Tables, portable plinths, dump bins: one week
Custom-built acrylic plinths: two weeks
Timber plinths, event flooring, vendor bikes: 2.5 weeks
Flags, gazebos, display walls, carts & trolleys, inflatable products: Two weeks
Display walls, Brandframe, SuperWalls: 1.5 weeks
(The above times are calculated from the timing of your order confirmation, and in some cases the supply of your print-ready artwork if that is required to commence your job)
Allow extra time for delivery if delivery is required. We can advise you on freight timings, which will vary according to the delivery post code.
Freight pricing will be automatically calculated once all items are in your cart. Freight is calculated based on the size and weight of your combined order, as well as delivery address.
This product carries a 1 yr hardware warranty! Other products carry a 5 yr warranty and may be more suitable for multiple use over a longer period of time.
(The warranty applies to non-graphic components and is available to the original owner of the unit. The warrantee does not cover damage caused by mistreatment by the user or by normal wear and tear).
$355.40 ex-GST
Prices do not include GST and freight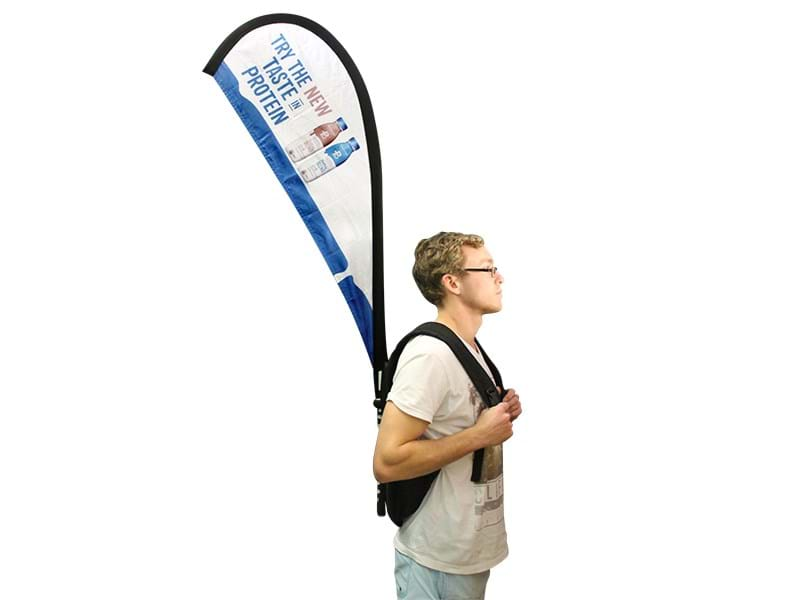 To add custom features or for help with your requirements, click the 'Enquire Now' button or call 1300 240 250.

Enquire about the Backpack Flags
Our team of display experts is here to help.
Give us a call on 1300 240 250 or use the form below to tell us as much as you can and we'll reply to you within one business day.