How to maximise brand exposure using outdoor display solutions
To stand out from the crowd, you need to maximise your brand exposure through outdoor displays. Displays 2 Go offers a wide range of outdoor displays that can help you achieve this goal.
In this blog post, we will provide you with tips, tricks, and advice on how to get the most out of your Displays 2 Go outdoor displays. We will explore the types of displays available, how to design them effectively to create maximum impact, and how different materials can be used to increase brand exposure. Whether you are a marketing manager, brand manager, hospitality manager or retailer, this blog post will help you make a big impact in your market.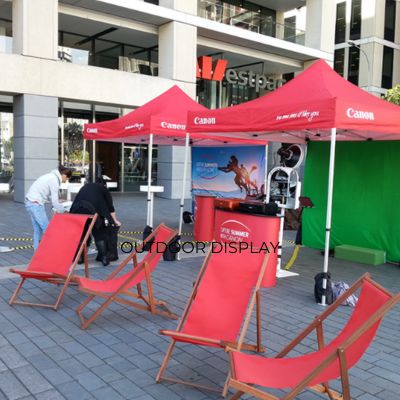 Types of Display
Outdoor displays come in various shapes and sizes. Displays 2 Go offers a wide range of displays, from simple banners to large-scale billboards. It is essential to choose the right display for your brand.
If you want to create a big impact, a billboard might be the best choice. It's hard to miss these large-scale displays. We offer a range of both digital displays as well as stretched fabric options, which can even be illuminated for added impact.
Suppose you want to create a more subtle impact or if you have limited space available. In that case, a smaller display, such as a pull-up banner, could be the perfect choice. These smaller displays can be used in-store or at events, allowing your brand to reach a targeted audience effectively.
Never forget the power of a promo flag. Flags are lightweight and easy to move, making them perfect for events. By incorporating your brand colours and logo, you can create a display that is impossible to miss, creating not only a little noise and movement but also standing head and shoulders above your competitors.
Consider using a popup tent as an outdoor event booth. It's an excellent way to stand out at an event. By customising the tent with your brand colours and logo, you can create a memorable display that attendees will be sure to remember.
We stock a wide range of inflatable solutions that create a dramatic impact when used as arches at sports events but we also have inflatable chairs, bean bags and tables. 
Effective Design
Selecting the right design for your outdoor display is critical. You want to create an impactful design that resonates with your target audience. There are several things to keep in mind when choosing a design.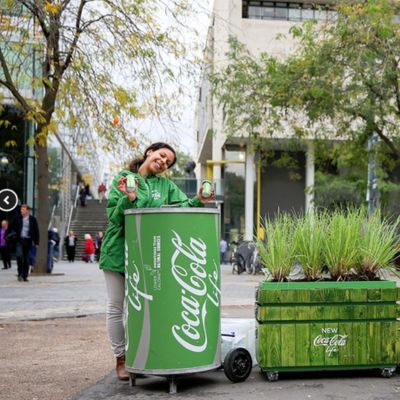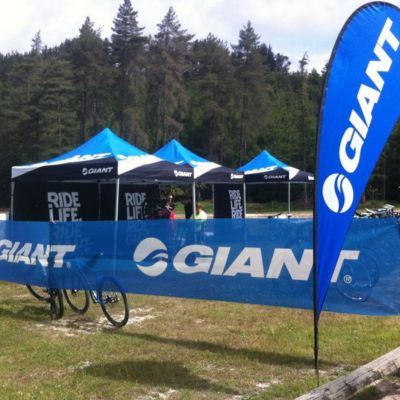 First, make sure that your display is easily readable. Passersby should be able to read your display from a distance. Incorporate bold colours and fonts to make your display stand out.
Second, make sure that your design is easy to understand. Avoid clutter and go for easy-to-read headlines and clear messaging.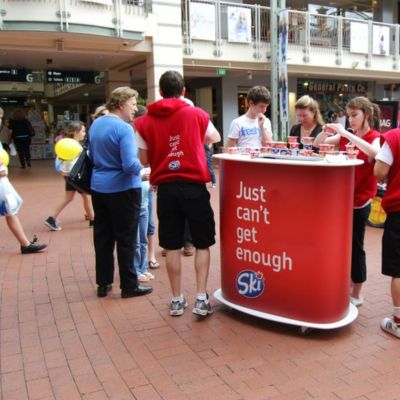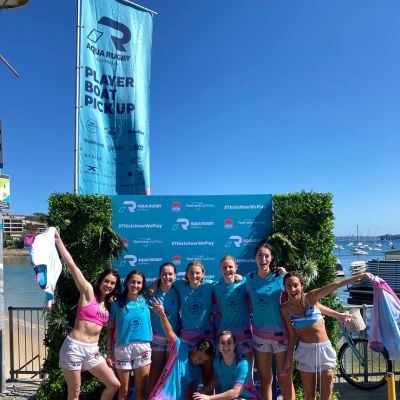 Finally, consider your target audience when designing your display. Think about what they want to see and what would resonate with them. Incorporate these ideas into your design to create a display that will be memorable.
Materials for Increased Brand Exposure
The materials used for your display can also increase brand exposure. Displays 2 Go offers a range of materials, including vinyl, fabric, and mesh. Each material has its unique properties.
Vinyl is a popular choice for outdoor displays. It is durable, weather-resistant, and can be printed on both sides. Vinyl is an excellent choice for banners as well as pull up banners.
Fabric displays are ideal for smaller displays, such as walls, or backdrops and even for some banner stands. Fabric is lightweight and easy to transport, making it perfect for events and trade shows. It stretches over the framing to deliver a crease-free high-impact solution that can be washed regularly for an all-year-round smart appearance.
Mesh displays are an excellent choice for banners that will be placed in windy areas. The mesh allows air to flow through the banner, reducing the risk of damage.
Stand Out with Creative Display Ideas
Finally, creative display ideas can help your brand stand out from the crowd. Displays 2 Go offers a range of displays that can be used creatively to increase brand exposure. Plinths and other solutions help to showcase your products and deliver more impact than your competitors. We can even create augmented and virtual reality solutions for added interest and engagement. Our team are experts in delivering bespoke solutions, more like unique works of art than simple off-the-shelf displays.
Maximising your brand exposure with outdoor displays is an effective way to stand out from the crowd. By selecting the right display, using effective design, choosing the right materials, and utilising creative ideas, you can create a display that is sure to make an impact.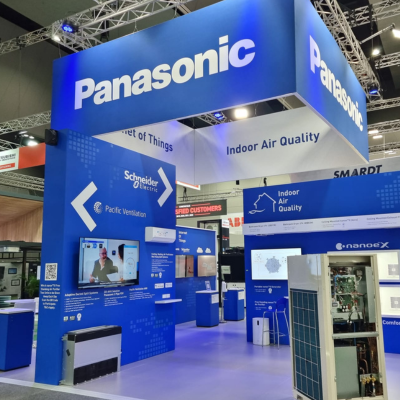 Need some help?
Displays 2 Go offers a wide range of outdoor displays that can help you achieve your goals. Get in touch with Displays 2 Go today to learn more about how we can help you get the most out of your outdoor displays.