Boosting Seasonal Sales: Your Guide to Holiday-Themed Product Display Stands
As the holiday season approaches, retailers are gearing up to make the most out of this festive shopping period. One effective way to capitalize on the buying season is by creating holiday-themed product display stands that not only catch the eye but also enhance the overall shopping experience. In this blog, we'll explore some valuable tips to elevate your holiday promotions with eye-catching displays that capture the spirit of the season and entice customers to make those purchases.
TIP # 1 - Fresh Designs For Holiday Displays
One of the most effective ways to make your retail store stand out during the holidays is by incorporating fresh and captivating designs into your displays. Whether it's Christmas, Halloween, Valentine's Day, or any other holiday, your display stands should reflect the theme of the season. Use vibrant colors, festive decorations, and engaging visuals to instantly grab the attention of shoppers.
Consider investing in new, holiday-specific signage, banners, and decorations that not only celebrate the season but also emphasize the special offers and promotions you have in store. Remember that during the holidays, shoppers are often in a celebratory mood, and a fresh, eye-catching display can tap into that enthusiasm, turning window shoppers into buyers.
Here's a pro tip: Keep your design Fresh and Evolving
Fresh designs don't mean you have to reinvent your holiday displays from scratch every year. What's important is to keep them dynamic and ever evolving. Customers who return to your store each holiday season should find something new and exciting to discover. You can achieve this by refreshing your displays with new decorative elements, different product arrangements, or updated signage.
A great way to keep your holiday displays fresh is to stay updated with design trends. These trends can provide you with inspiration and innovative ideas for your displays. Additionally, gather feedback from customers and employees to gain insights into what works and what could be improved.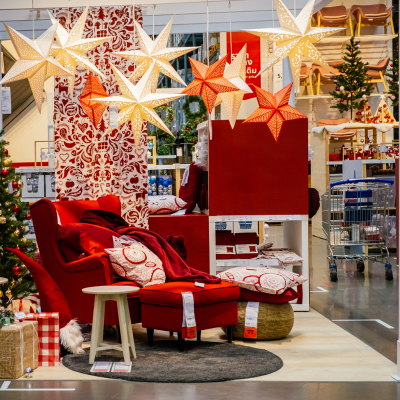 TIP # 2 - Attention to the Product's Seasonality
When setting up your holiday displays, remember to emphasize the seasonality of your products. This is a great opportunity to showcase items that are particularly relevant to the holiday and demonstrate their suitability for gifting or personal use. If you sell clothing, highlight cozy winter wear for Christmas, or swimsuits for summer holidays. If you're in the food business, feature special holiday-themed treats or meals.
Customers are always on the lookout for products that align with the holiday spirit, so make sure your displays clearly communicate that your offerings fit the occasion. It can be as simple as adding a "Holiday Must-Haves" section to your display, or as elaborate as creating themed sections throughout your store.
TIP # 3 - Display Location and Customer Experience
Two important elements that play a vital role in the effectiveness of your holiday-themed displays are their location within your store and the customer experience they provide. Place your displays strategically in high-traffic areas to ensure they're easily visible and accessible to shoppers. 
One of the prime locations for holiday displays is near the store's entrance, where shoppers get their first impression of your festive offerings. By placing your displays here, you can immediately capture their attention and set the holiday shopping mood.
In addition to entrance areas, consider the main walkways and near checkout counters for your displays. These locations offer excellent visibility and can prompt last-minute purchases, especially if you've placed impulse-buy items strategically. To maximize the impact of your holiday displays, ensure they don't obstruct the flow of foot traffic and that customers can comfortably browse and make selections.
Customer Experience:
Creating a unique and memorable customer experience around your products is a key aspect of successful holiday-themed displays. The holiday season is not only about shopping for products but also about enjoying the festivities and the special atmosphere.
Here's a PRO tip: To make your store a destination, consider offering more than just products. Organize in-store events, provide demonstrations, or offer seasonal samples and tastings. Engaging customers in these activities not only enhances their shopping experience but also encourages them to stay longer in your store, increasing the likelihood of purchases.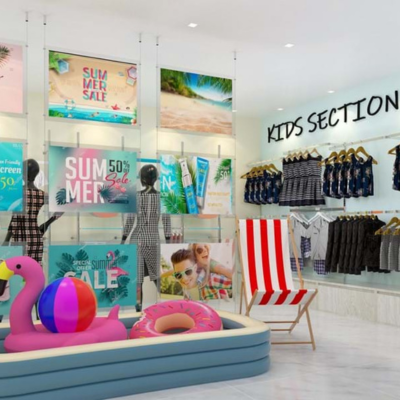 Tip # 4: Use Eye-Catching Graphics and Signage
The key to successful holiday-themed product display stands is to make them visually appealing. Utilize eye-catching graphics and signage that draw the attention of shoppers. This can include large banners stands, posters, and signs with holiday-specific messages or promotions. Incorporate high-quality images of your products and special offers to entice potential buyers.
Incorporate lighting elements, such as twinkling fairy lights, to add an extra touch of holiday magic to your displays. Additionally, consider using 3D elements like snowflakes, ornaments, or other holiday-related decorations to make your product display stand out and create a sense of immersion in the holiday atmosphere.
Choosing Displays 2 Go for your next custom holiday retail display.
Extensive Expertise and Proven Track Record
Choosing Displays 2 Go is a decision backed by years of expertise and a proven track record. With an extensive background in the retail industry, Displays 2 Go understands the unique challenges and opportunities that come with holiday promotions. Our team of experts has successfully collaborated with numerous businesses, helping them create custom displays that not only reflect their brand identity but also drive sales during the busy holiday season. 
With Displays 2 Go, you can be confident that your custom holiday displays will not only meet but exceed your expectations, creating a memorable shopping experience for your customers and a successful holiday season for your business.
 Contact us today about your next Holiday Retail Display