How to create an award-winning exhibition stand design
Winning awards isn't everything, but it certainly makes you feel good! Here we provide 10 tips on how to create an award-winning exhibition stand based on over 15 years' experience creating exhibition stands for the Australian market. And, of course, if you would like some extra help creating your own award-winning exhibition stand, then get in touch.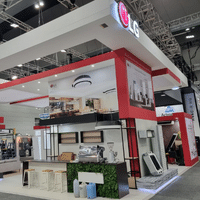 #1 Keep abreast of design trends
Every year there are new design trends in graphic design and indeed in architecture. To design an award-winning stand, you need to keep these trends in mind. Whether you like it or not, judges will look at how you have used these trends in your stand design.
So for instance, it might be that AI is right on trend so judges will be looking for use of AI in your stand design and the experience you create for visitors.
Consider too, the materials you use - for a while inflatable was very on-trend with inflatable furniture and even branded counters. These are less popular now and have been replaced with more emphasis on sustainability.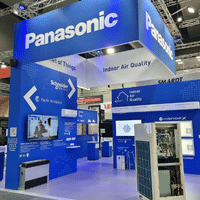 #2 Maintain brand guidelines
Creating impact is often seen as a key part of any award-winning exhibition stand. But this should not be at the cost of your brand. Work within your brand guidelines and find ways to create impact while creating a consistent branded experience for your stand visitors. Your brand needs to be remembered long after the show has closed, so focus on delivering good branding at every touchpoint.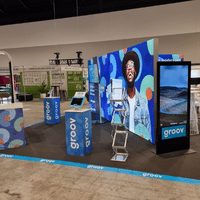 #3 Incorporate digital and interactive elements
Most stands these days incorporate digital and interactive elements - if yours doesn't then you should ask yourself why. There are several reasons for delivering a screen experience of some kind on your stand.
Helps manage high traffic moments, as the screen can engage your visitors while waiting to speak to someone on your stand.
Moving images on a screen help to capture attention and deliver a little more impact, especially as these screens are often placed at a higher level.
Including interactive elements help your visitors to guide themselves through your product range and allow them to discover your products for themselves. Often people enjoy this experience and a softer sell.

Using a floor-standing Interactive Digital Kiosk can take the place of a person on your stand, delivering a huge impact while allowing visitors to find out more about your product and watch your marketing media at their own pace. It can even be used to data-capture their details!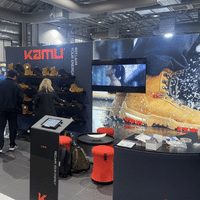 #4 Utilise space wisely
Many exhibition stands need to deliver several different solutions, including product showcase, product demonstration, customer liaison, and customer data capture. Great design and the use of space is really important. Great design can be used to move visitors around your stand and can be used actually to guide visitor behaviour. With stand space often being very expensive, achieving the most in a small area becomes a significant consideration and one that judges take into consideration when looking a potential award-winning exhibition stands.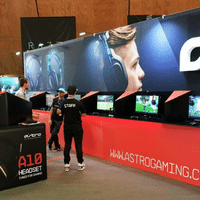 #5 Articulate who you are and what you do
It sounds obvious, but so many exhibition stands fail at this. They try too hard to grab impact and leave the visitor confused about what it is you actually do. Keep the messaging simple and to the point. Consider overhead Sky Banners for grabbing attention and promoting your singular message. Be bold with your logo and consider your main headlines on any graphics - be consistent and don't leave visitors confused.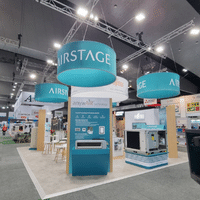 #6 Colours, colours, colours
When you need to stand out from the crowd, colour can be your friend. But don't use it for the sake of it and don't use colours that take you too far off-brand. Remember that great printing techniques onto fabric can create life-like graphics that in themselves deliver colour and impact. Bring your stand to life with effective, quality printed graphics. Your colours will stand out as a result.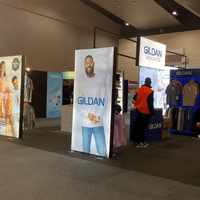 #7 Use lighting for attention
All too often brands leave out lighting when their budgets are constrained. This is often a mistake. Award winning stand designs usually feature illumination. In the old days, this was in the form of "arm" lights that were attached to the top of an exhibition stand and shone down. They're still acceptable, but there are so many more options these days, including giant lightbox lights within the walls that light up the wall graphics. There are even dynamic LED lights that can be programmed to light at intervals to create a sense of movement in fabric exhibition walls.
Use lighting to highlight your showcase products, using illuminated plinths, or light up areas you want visitors to move towards.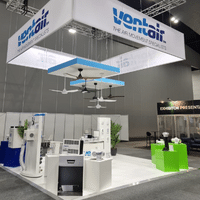 #8 Use motion in your booth
Any exhibition stand with screens, motion and lighting in its walls will deliver impact. Ensuring this is included in the stand design and not as an afterthought will ensure you're in contention as an award-winning exhibition stand! Having products that actually function on your stand adds extra interest and intrigue. Consider too, competition devices such as Spin to Win Wheels, which add more motion to your stand.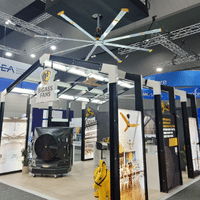 #9 Use focal points in your layout
Playing with heights and elements on your stand creates focal points that drive behaviour on the stand. Consider various heights on your stand and consider the use of Sky Banners for adding additional height and interest.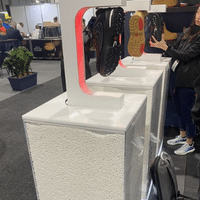 #10 Consider clever shapes and materials
Just because your site is square doesn't mean you have to be with your stand. Be different in your layout to stand out from the crowd. Walls at various angles help to grab attention and communicate various messages. They break up the stand and deliver specific areas. Just like housing, play with different materials on your stand. Fabric walls are incredible, but the real art is in mixing materials so combine wood with fabric with perspex for a truly amazing on-stand experience.
Need some help?
We've been designing and producing exhibition stands for over 15 years, right here in Australia. For a no-obligation chat about your requirements, please contact us. We LOVE to help clients create effective exhibition stands - and if they win some awards along the way, then that's good too!