How Virtual Reality (VR) Affects The Way We Do Trade Shows and Exhibitions
As a business exhibiting at trade shows or exhibitions, one of your key objectives is invariably to stand out and capture the attention of potential customers. However, this is becoming harder and harder to do, particularly within highly competitive industries. So how do you make your audience interested in visiting your stand and deliver content that your customers want to experience?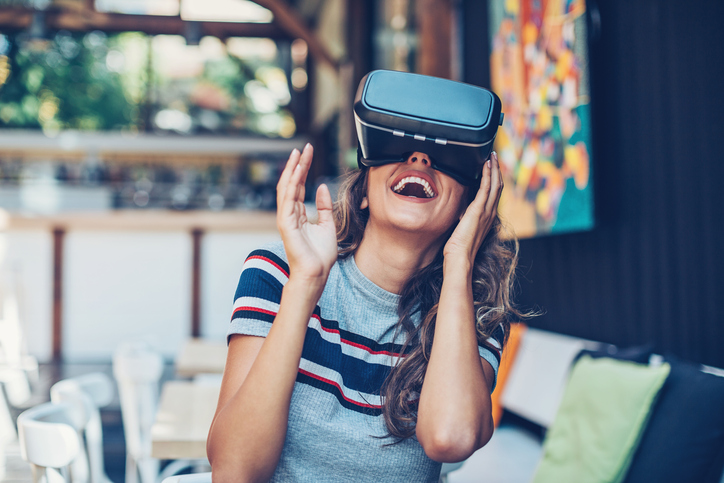 Enter Virtual Reality!
Virtual Reality (VR) allows you to create something powerful for your brand. First, it gives your audience a reason to visit your booth and second it gives your audience a reason to stay!
Let's be honest; looped videos and handing out brochures is very much the norm and can be quite bland. VR, on the other hand, gives you the opportunity to tell your story in an immersive experience and puts your products front and centre. Whilst most businesses stick to old routines, you can use VR to engage your audience using a multi-sensory experience that very few in the exhibition space are doing!
Studies suggest that of those that have tried VR before, 81% say they tell their friends about the experience and 79% seek to try it again! Think of all the word-of-mouth marketing you can benefit from that!  Those numbers really are extraordinary.
3 ways to use VR at your next exhibition:
Transporting customers to a virtual showroom
Trade show space can be limited, and it can be hard for you to have activities where you can truly tell your brand story. With the use of VR you can change all this and have unlimited floor space where you can create whatever experience you want for your audience. Let's say you sell furniture, for example. Want to transport your visitors to your store and let them see your range of styles? With VR, you can! Give your customers a walk-through of your entire showroom and let them zoom in on every detail, see your full product range and get a feel for each product, just like in real life! You'll definitely set yourself apart from the crowd and leave a lasting impression.
Check out below how McDonald's used VR to give customers a VR tour of what it's like eating at McDonald's:
Sampling Your Products
Another great way to use VR is to use it for sampling your product. This may sound strange but demonstrating, or allowing your audience to experience the taste of your products, is something that can have a lasting effect. Take Boursin, for example, who designed the Boursin Sensorium roadshow and combined VR with a bespoke 360 degree CGI film. The experience was designed to make an impact on their audience and introduce them to new flavours without losing its luxury status. The campaign was a huge success with 5,097 consumers being immersed in the VR experience and two months after the event took place an amazing 92% of those asked recalled the experience.
Hands-on Training
VR also allows you to strike while the iron's hot and give your customers hands-on training about your product right then and there. This is the perfect scenario if you sell complicated products or medical equipment. For example, you can give prospective buyers the training they need even before they place their order. This gives customers confidence in your product and brand, and perhaps an increased level of trust and value. Something definitely worth considering.
If you'd like to consider Virtual Reality for your next trade show or are curious to know how you can get the most out of it, don't hesitate to give us a call at 1300 240 250 or email us at sales@displays2go.com.au