Refrigerated Coolers
A fridge and a mobile cooler bin in one unit!
This clever can-shaped design can be plugged straight into a power socket to act like a regular fridge, then be disconnected for use as a mobile sampling trolley. The cooler is packed with a dense layer of insulation, allowing you to use the disconnected bin for around 8 hours without the need to re-connect.
When not being used for mobile sampling, the cooler can be plugged into a power socket to act as a regular fridge.
Adding and changing your own branding and graphics is easy, via use of a VELCRO®-mounted graphic 'wrap'.
The versatile size for makes the refrigerated cooler suitable for multiple uses.  Measuring 550mm diameter x 960mm high, the cooler bin is the ideal size for outdoor sampling, malls, stadiums, retail stores and exhibitions.
(Price includes: Australian-certified mains power connection, and interchangeable graphic 'wrap')
Outer dimensions: 548mm diameter x 960mm high
Internal dimensions: 330mm diameter x 520mm high
Temperature range: 0 to +10 degrees celcius
Refrigerant: R134a
Gross weight: 40kg
Lid: Transparent plastic
Features:
- Auto-defrost and evaporation system
- Galvanised and powder-coated metal outer
- Forced air cooling
$1,241.00 ex-GST
Prices do not include GST and freight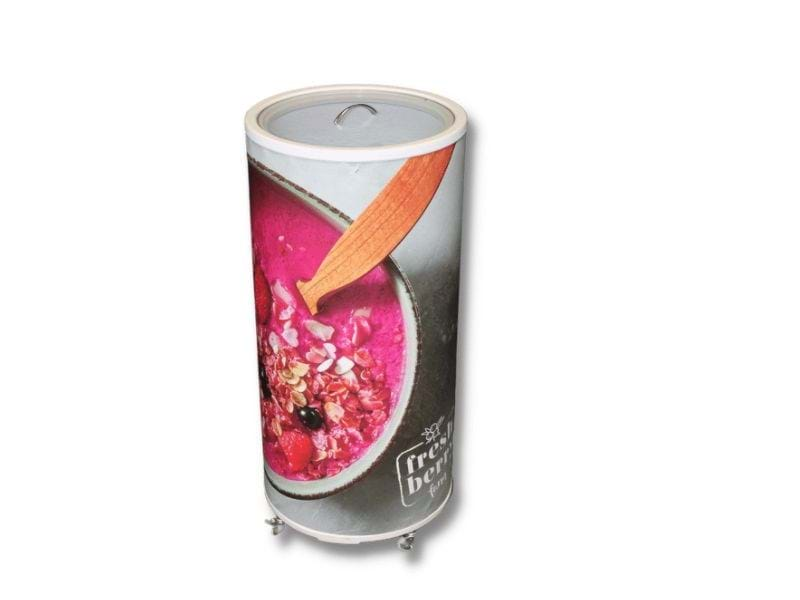 To add custom features or for help with your requirements, click the 'Enquire Now' button or call 1300 240 250.

Enquire about the Refrigerated Coolers
If you have some custom requirements or would like a quote or specific information, complete this form and we will contact you.