White Round Acrylic Plinths
Stand out from the crowd!
These white round acrylic plinths and pedestal plinths are ideal for store-fronts, display stands or showrooms.
...and weddings of course!
The white finish of these white acrylic plinths gives a minimalist look to your display and supports your product in standing out and selling itself.
Being a round shape, these pedestals combine particularly well with our range of display turntables if you're looking for a rotating display.
Our off-the-shelf size below is ready to go.
(Price includes: round plinth made from white acrylic, size 400mm diameter x 1000mm high)
We take pride in having one of the quickest turn arounds in the display and exhibition industry. Miracles are our specialty, so if you need something sooner than the timeframes below just ask!
These are our standard lead times (not rush lead times) for manufacturing:
Literature and poster displays, stocked acrylic plinths, turntables, stocked entry boxes, raffle barrels: 1 – 2 working days
Banner stands, display panels, room dividers: one week
Tables, portable plinths, dump bins: one week
Custom-built acrylic plinths: two weeks
Timber plinths, event flooring, vendor bikes: 2.5 weeks
Flags, gazebos, display walls, carts & trolleys, inflatable products: Two weeks
Display walls, Brandframe, SuperWalls: 1.5 weeks
(The above times are calculated from the timing of your order confirmation, and in some cases the supply of your print-ready artwork if that is required to commence your job)
Allow extra time for delivery if delivery is required. We can advise you on freight timings, which will vary according to the delivery post code.
Freight pricing will be automatically calculated once all items are in your cart. Freight is calculated based on the size and weight of your combined order, as well as delivery address.
Using quality acrylic, these plinths carry a 2 year warranty!
(The warranty applies to non-graphic components and is available to the original owner of the unit. The warranty does not cover damage caused by mistreatment by the user or by normal wear and tear).
$282.00 ex-GST
Prices do not include GST and freight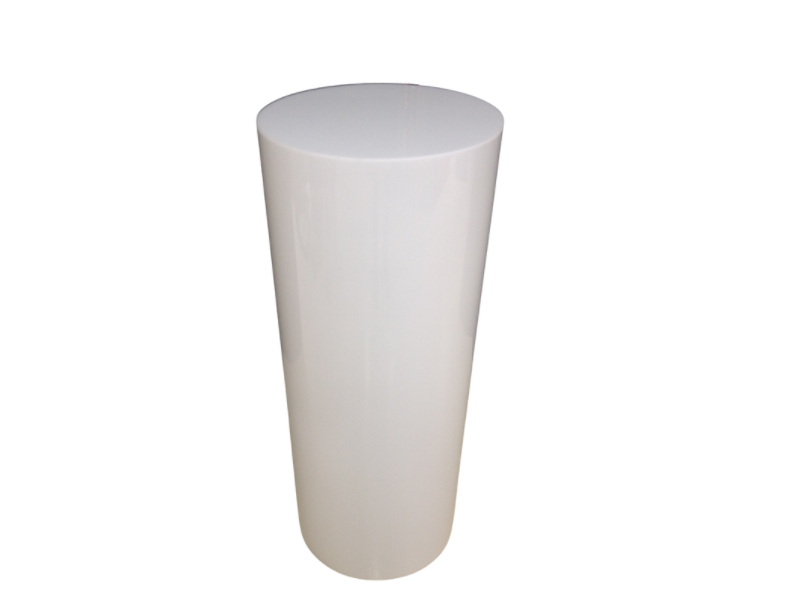 White round acrylic plinth, 400mm dia x 1 metre high
Enquire about the White Round Acrylic Plinths
If you have some custom requirements or would like a quote or specific information, complete this form and we will contact you.