Metal Plinths
Metal frame plinths and pedestals provide a minimalist, modern look to compliment your display area. They have a simple frame and top combination, which is a popular style in modern venues.
These plinths are the go-to solution for stores or showrooms looking for on-trend styles, such as department stores, cosmetics retailers, and fashion outlets.
Clear showcases can easily be added to these plinths to secure the contents are required.
(Price includes: black plinth with black top, sized at 400mm square x 900mm high)
These versatile display plinths can support up to 65kgs and will last for years! These plinths are constructed from aluminium framing connected by polypropylene corner joiners, which is a low-cost and robust alternative to welded corners on steel plinth frames, which then need to be painted after welding.
The tops are constructed from tough, 12mm, Melamine faced, MDF board with durable, high impact PVC clashed edges. Melamine also provides an easy-clean foodgrade washable surface.
We can manufacture these plinths to a size of a specific colour to suit your requirements. A typical plinth size is 400mm square x 900mm high, however they can be made at almost any size. If you have a specific requirement, just ask!
Depending on your chosen finish the framing can be anodised in a specific colour (most commonly matt black) or left as an unpainted aluminium colour.
Need a different looking top to add some extra pizazz? Choose a mirror finish, or a bright block colour, some custom printing, or even a wood grain. Talk to us about what you need.
We take pride in having one of the quickest turn arounds in the display and exhibition industry. Miracles are our specialty, so if you need something sooner than the timeframes below just ask!
These are our standard lead times (not rush lead times) for manufacturing:
Literature and poster displays, stocked acrylic plinths, turntables, stocked entry boxes, raffle barrels: 1 – 2 working days
Banner stands, display panels, room dividers: one week
Tables, portable plinths, dump bins: one week
Custom-built acrylic plinths: two weeks
Timber plinths, event flooring, vendor bikes: 2.5 weeks
Flags, gazebos, display walls, carts & trolleys, inflatable products: Two weeks
Display walls, Brandframe, SuperWalls: 1.5 weeks
(The above times are calculated from the timing of your order confirmation, and in some cases the supply of your print-ready artwork if that is required to commence your job)
Due to the robust construction this is a very durable product suitable for multiple use over a long period and carries a 5yr warranty!
(The warranty applies to non-graphic components and is available to the original owner of the unit. The warranty does not cover damage caused by mistreatment by the user or by normal wear and tear).
$248.00 ex-GST
Prices do not include GST and freight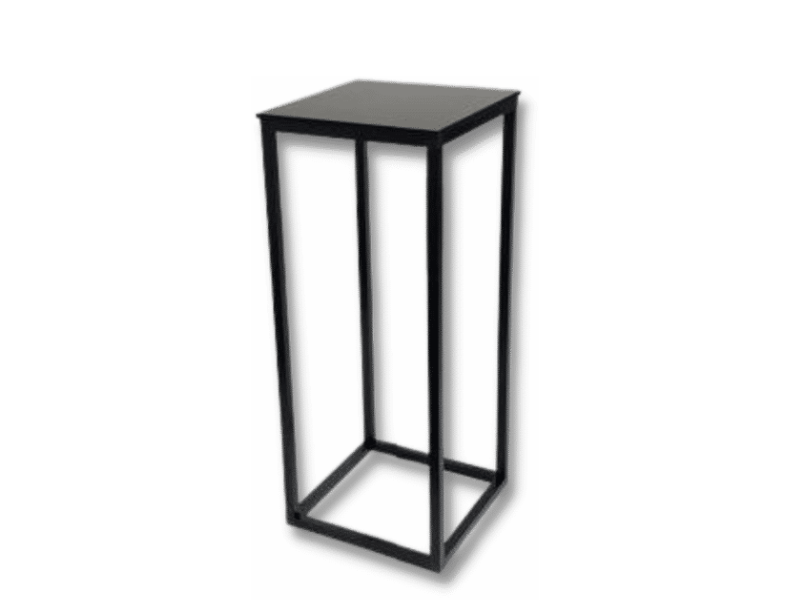 To add custom features or for help with your requirements, click the 'Enquire Now' button or call 1300 240 250.

Enquire about the Metal Plinths
If you have some custom requirements or would like a quote or specific information,
complete this form and we will contact you.