Inflatable Towers & Columns
Using these large inflatable columns provides an easy way to achieve strong branding presence in crowded outdoor environments.  Use them at beaches, sporting fields and outdoor events.  Also fantastic as a portable solution for on-ground branding activity at sports stadiums during the breaks in play.
These inflatable tubes and columns can be used both indoors and out.
Available with or without internal lighting according to your requirements.
Strong and durable with a printed polyester cover, the furniture inflates in seconds for super-easy use.
The slide-over graphics zip up on the underside for easy changeover. You can even machine wash them if you need to.
(Price includes: tower hardware, inflation pump, interchangeable graphics and carry bag)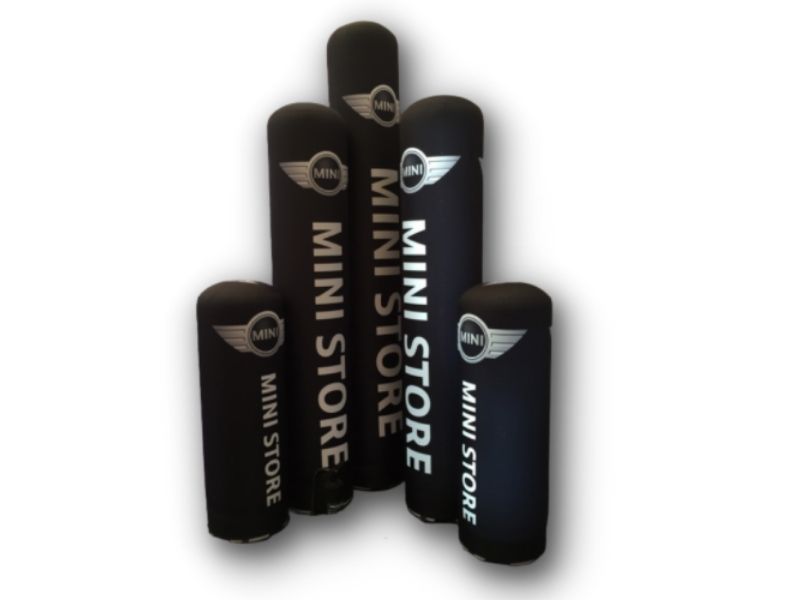 450mm diameter x 1.2 metres high
450mm diameter x 2.2 metres high
450mm diameter x 2.8 metres high
Strong and durable with printed polyester covers, these inflatable towers will last for years. 
The inflatable bladder inside the tower is made with a strong and long-lasting inflatable TPU (thermoplastic polyurethane).
The entire structure packs away into a portable carry bag that is easily carried by one person.
Use the supplied air blower to inflate the furniture in a matter of seconds. Combine these pieces with an inflatable gazebo and inflatable furniture for a full kit that can go anywhere.
Both electric and manual inflation pumps are available, according to your preference.
The printed cover can be fully branded to your specifications and slides on and off the displays with a minimum of fuss. This enables you to wash the graphics if you ever need to and to get new graphics for your next campaign.
Column Dimensions:

 

450mm diameter x 900mm high, 3kg

450mm diameter x 1200mm high, 4kg        

450mm diameter x 2200mm high, 6kg

450mm diameter x 3000mm high, 8kg

Column Dimensions:

600mm diameter x 1000mm high, 7kg

600mm diameter x 2200mm high, 8kg

600mm diameter x 3000mm high, 9kg
With robust materials and construction, this durable design is suitable for multiple use over a long period and carries a 5 year warranty!
The warranty applies to non-graphic components and is available to the original owner of the unit. The warranty does not cover mistreatment or normal wear and tear.
Each tower is supplied in its own carry bag for ease of portability.
The base of each tower features a round water base which can hold up to 15 litres of water enabling the towers to remain stable and upright. By using water inside the base they can be filled with water on-site, which prevents users from having to transport heavy stability weights.
If the towers are to be used in indoor environments or at night, add internal lighting to shine out through the graphics to create a stunning lightbox effect.
Artwork can be supplied directly by you or your graphic designer, or if you prefer we have an in-house graphic design department to prepare your print-ready artwork.
If you'd like pricing for graphic design simply send us a brief of requirements and we'll be happy to estimate for you. When you're at the checkout page simply advise us which option you prefer.  
A range of artwork templates is listed below for your convenience, or contact us for the template to suit your chosen product(s).
Standard production lead time for Inflatable Towers & Columns is 1.5 weeks. This time is calculated from when you place your order and print-ready artwork has been prepared. We take pride in having one of the quickest turn arounds in the display and exhibition industry. Miracles are our specialty, so if you need something sooner than the timeframes below just ask!
(The above times are calculated from the timing of your order confirmation, and in some cases the supply of your print-ready artwork if that is required to commence your job)
Allow extra time for delivery if delivery is required. We can advise you on freight timings, which will vary according to the delivery post code.
Freight pricing will be automatically calculated once all items are in your cart. Freight is calculated based on the size and weight of your combined order, as well as delivery address.
From $444.00 ex-GST
Prices do not include GST and freight
To add custom features or for help with your requirements, click the 'Enquire Now' button or call 1300 240 250.

Enquire about the Inflatable Towers & Columns
If you have some custom requirements or would like a quote or specific information, complete this form and we will contact you.