Helping Agencies deliver awesome client solutions for over 15 years.
all under one roof
From Creative through to Production
Under one roof, at our Sydney-based facility, we work with Agencies throughout Australia. Our Design and Production teams work on your client briefs to deliver initial ideas and then final production. Our project management teams liaise with your teams every step of the way, delivering your client solutions on time and on budget. 
We specialise in creating bespoke campaigns and display materials for clients, but we can also customise many of our off-the-shelf products to deliver a more unique but cost-effective solution.

We would love to dive in and help you with your retail,
experiential, event or exhibition briefs. We'll work with you
to deliver something amazing. 






Event and Exhibition Design & Build Services
Most of you will know us for our exhibition design and build services. We've been building bespoke, award-winning exhibition stands for clients and agencies over the past 15 years. We're proud of the brands we've worked with and the displays we've created. All our work is carried out under one roof, making for effective collaboration between our project management, design and production teams. And that means you're kept in the loop better too!
Experiential Campaign Production
Why not let us help you brainstorm ideas? With over 75 years of combined experience, our team has the knowledge to help you with ideation. Once you've settled on the concept, then let us create the 3D photo-realistic renders to help you sell the concept to the client. And once the budget is signed off, we'll get to work turning the concept into reality. Trust us to get it all done, on-time and on-budget. 



Digital & Multimedia Solutions
Used by businesses throughout Australia, our floor standing Interactive Digital Kiosks are a useful addition to many campaigns and events. Use the integrated touchscreen to deliver a broad range of content, but also add extra engagement with photo options, card payments, virtual reality options as well as integrating them into an augmented reality activation.
We'll work with your teams to deliver a complete, interactive digital component to your campaign using powerful digital screens, all linked online through a central cloud-based hub. We provide the software, the bespoke development and all the hardware to deliver a complete digital solution to your needs.



Australia's Largest Range of Portable Display Materials
We stock the broadest range of display and exhibition materials in Australia. We offer high-quality fabric solutions as well as the latest illuminated displays and even inflatable display options for the ultimate in lightweight portability.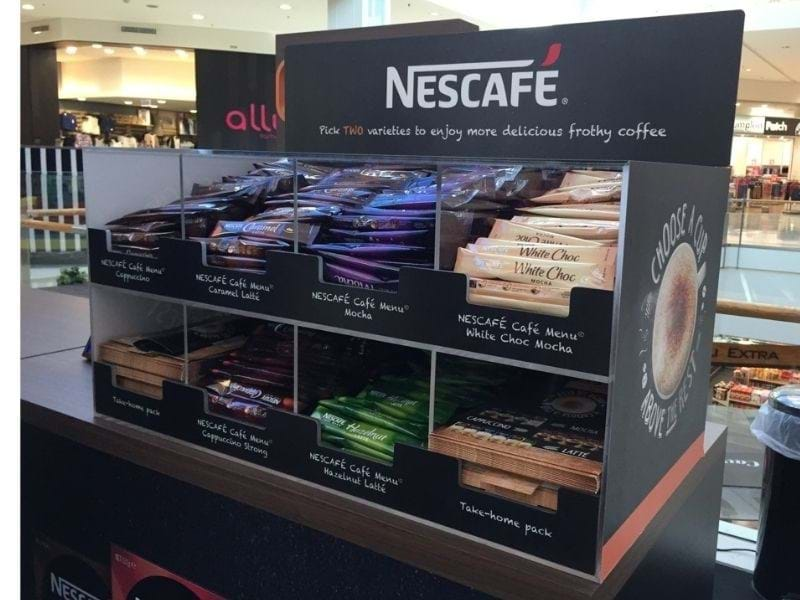 Retail Product Merchandising
Perhaps the least well-known of all our services is our work in Retail Product Merchandising. And yet, over the last 2 years, this represents the most significant area of our growth. We are helping clients to create better showroom facilities as well as assisting them in merchandising their products better in retail environments such as pop-up shops, high street stores and malls.
We'll take care of your complete exhibition display and conference needs, effortlessly.
We work with clients across the industry
We're justifiably proud of the work we do and the brands we work with. Here are just a few of the agencies and retailers we work with.