SuperWall Star
This is a clever new design we've created to help you stand out from the crowd. The display features two walls in one, and incorporates a large, curved wall at the rear with a star-shape burst at the front. You'll need to get used to having other exhibitors ask you where you got it!
The SuperWall Star incorporates all of the regular elements of the SuperWall that our clients love:
- Easy use for one person
- One-piece graphics without seams or gaps
- Maximum portability
(Price includes: full colour dye sublimation printed 270GSM fabric skin, supplied with aluminium snap-lock frame and carry bag)
The high-gauge framing is made from cold-drawn aluminium for greater stength without the weight. The frame sections are joined with industrial-strength elastic cord and click to connect for speed of assembly, meaning this display stand is ideal for long term multi-use, multi-venue and multi-user display scenarios. Includes a strong canvas carry bag.
The double-sided full colour fabric graphic is comprised of a hard-wearing and machine washable 270gsm polyester fabric with double-stitched seams for strength and durability!
The clever "click together" aluminium support poles and the foldable double-sided full colour fabric graphic mean this product can be collapsed down into its components for compact storage in its purpose made carry bag.
The complete unit including framing, fabric graphic and carry bag only weighs 12 kilograms.
The fabric used for the graphics is knitted from 85% recycled polyester, which is sourced from recycled PET bottles. The print technology is known as dye sublimation, which uses water-based inks without the harsh chemicals found in many other print inks. 
These two factors combine to product a product that is far kinder to the environment than traditional print alternatives. 
Assembly is straightforward for all the entire Superwall display range. Simply click together the frame sections, attach the feet and the stand is ready for the graphic to be slid over it - just like a big pillowcase! Once the graphic is zipped along the base it provides an impressive, seamless look.
Packed into the carry bags, a 6 metre-wide SuperWall Edge weighs just 15 kilograms. Assembly of the frames takes one person no more than ten minutes. No tools required.
The SuperWall features a one-piece, double sided fabric skin that slides over the frame quickly and easily. This makes the process of changing graphics super simple - you just slide the old graphic off and slide the new one on! Once the industrial strength zip is closed you are ensured of a crease free and eye-catching display.
Being dye-sublimation printed means the environmentally friendly water-based inks are heat-infused into the 290gsm polyester fabric. This ensures both vibrant print results and graphics that are colour fast and washable!
The SuperWall Star consist of two modules.
Standard size of the curved rear wall is 3 metres width x 2.25 metres high, and the front star shape is 1.4 metres wide x 2.4 metres high.
With robust materials and construction, this durable design is suitable for multiple use over a long period and carries a 5 year warranty!
The warranty applies to non-graphic components and is available to the original owner of the unit. The warranty does not cover mistreatment or normal wear and tear.
Artwork can be supplied directly by you or your graphic designer, or if you prefer we have an in-house graphic design department to prepare your print-ready artwork.
If you'd like pricing for graphic design simply send us a brief of requirements and we'll be happy to estimate for you. When you're at the checkout page simply advise us which option you prefer.  
For general instructions regarding file formats, artwork set-up, bleeds, and options for sending us artwork please be sure to review our artwork file specifications before preparing your print files. 
Artwork guide for curved rear wall
Artwork guide for star-shaped front wall
We take pride in having one of the quickest turn arounds in the display and exhibition industry. Miracles are our specialty, so if you need something sooner than the timeframes below just ask!
These are our standard lead times (not rush lead times) for manufacturing:
Literature and poster displays, stocked acrylic plinths, turntables, stocked entry boxes, raffle barrels: 1 – 2 working days
Banner stands, display panels, room dividers: one week
Tables, portable plinths, dump bins: one week
Custom-built acrylic plinths: two weeks
Timber plinths, event flooring, vendor bikes: 2.5 weeks
Flags, gazebos, display walls, carts & trolleys, inflatable products: Two weeks
Display walls, Brandframe, SuperWalls: 1.5 weeks
(The above times are calculated from the timing of your order confirmation, and in some cases the supply of your print-ready artwork if that is required to commence your job)
Allow extra time for delivery if delivery is required. We can advise you on freight timings, which will vary according to the delivery post code.
Freight pricing will be automatically calculated once all items are in your cart. Freight is calculated based on the size and weight of your combined order, as well as delivery address.
$2,315.00 ex-GST
Prices do not include GST and freight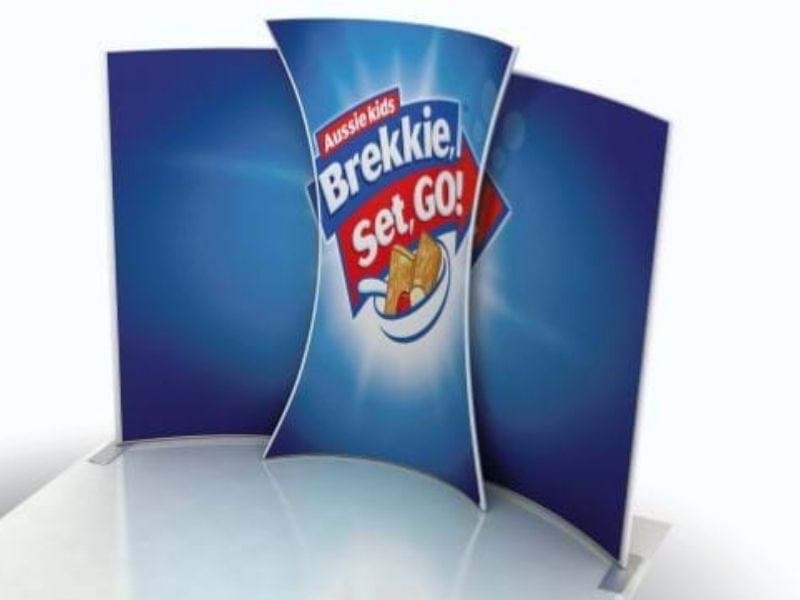 To add custom features or for help with your requirements, click the 'Enquire Now' button or call 1300 240 250.

Enquire about the SuperWall Star
If you have some custom requirements or would like a quote or specific information, complete this form and we will contact you.