Counter Top Prize Wheels (steel base)
These counter-top or table-top prize wheels are built to be portable. Choose from two styles:
- The style shown here, with round steel base and a robust, easy-to-spin 420mm diameter upright wheel.
- With an acrylic body, including internal storage, removable header board and an angled 420mm diameter wheel.

Both styles are built to our high design standards, which includes a loud clicking function - this is often the forgotten part of an effective prize wheel!
(Price includes: steel-base prize wheel with 10 permanently printed segments)
The standard design has 10 printed segments on the prize wheel, which can be changed according to your requirements.
Need to change your wheel graphics over regularly? You can choose to have removable and interchangeable segments, allowing you to update the wheel for future campaigns with new branding or prize options.
As part of creating a full portable solution, you can add one of our portable plinths with full print for the wheel to stand on, making an impactful and functional display.
Need a customised solution?
No problem - just let us know what you need. Our prize wheels and designed and constructed at our workshop in Australia so can be designed to suit your requirements.
With steel base plate
Upright support pole 500mm high
Spinning wheel 420mm diameter
10 segments, permanently printed (this can be changed to a different quantity or made interchangeable)
With acrylic housing
With robust materials and construction, this durable design is suitable for multiple use over a long period and carries a 1 year warranty!
The warranty applies to non-graphic components and is available to the original owner of the unit. The warranty does not cover mistreatment or normal wear and tear.
We take pride in having one of the quickest turn arounds in the display and exhibition industry. Miracles are our specialty, so if you need something sooner than the timeframes below just ask!
These are our standard lead times (not rush lead times) for manufacturing:
Literature and poster displays, stocked acrylic plinths, turntables, stocked entry boxes, raffle barrels: 1 – 2 working days
Banner stands, display panels, room dividers: one week
Tables, portable plinths, dump bins: one week
Custom-built acrylic plinths: two weeks
Timber plinths, event flooring, vendor bikes: 2.5 weeks
Flags, gazebos, display walls, carts & trolleys, inflatable products: Two weeks
Display walls, Brandframe, SuperWalls: 1.5 weeks
(The above times are calculated from the timing of your order confirmation, and in some cases the supply of your print-ready artwork if that is required to commence your job)
Allow extra time for delivery if delivery is required. We can advise you on freight timings, which will vary according to the delivery post code.
Freight pricing will be automatically calculated once all items are in your cart. Freight is calculated based on the size and weight of your combined order, as well as delivery address.
$477.00 ex-GST
Prices do not include GST and freight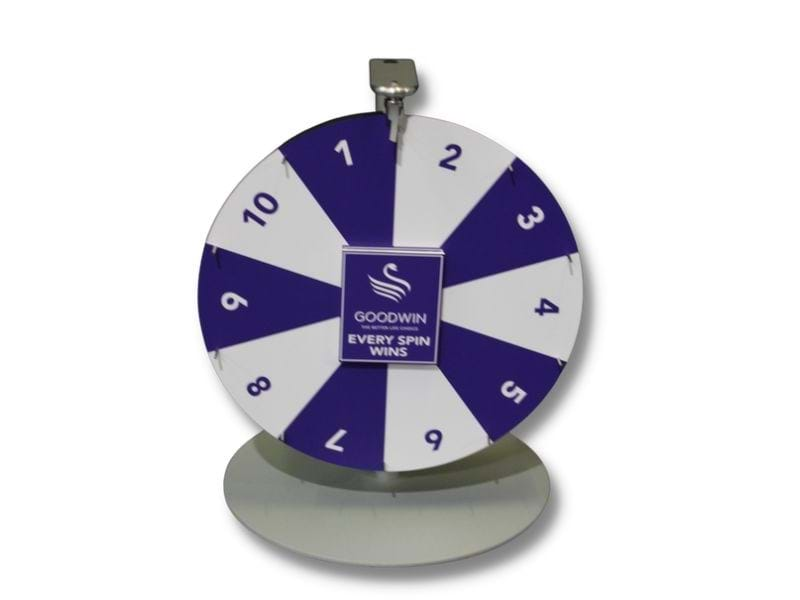 To add custom features or for help with your requirements, click the 'Enquire Now' button or call 1300 240 250.

Enquire about the Counter Top Prize Wheels
If you have some custom requirements or would like a quote or specific information, complete this form and we will contact you.